I am less scared of moving forward than I am of going backward. It's the things you didn't do that haunt you.
It brings back a lot of memories. He brought me flowers and taught me to drink tequila. It's as though he's still here.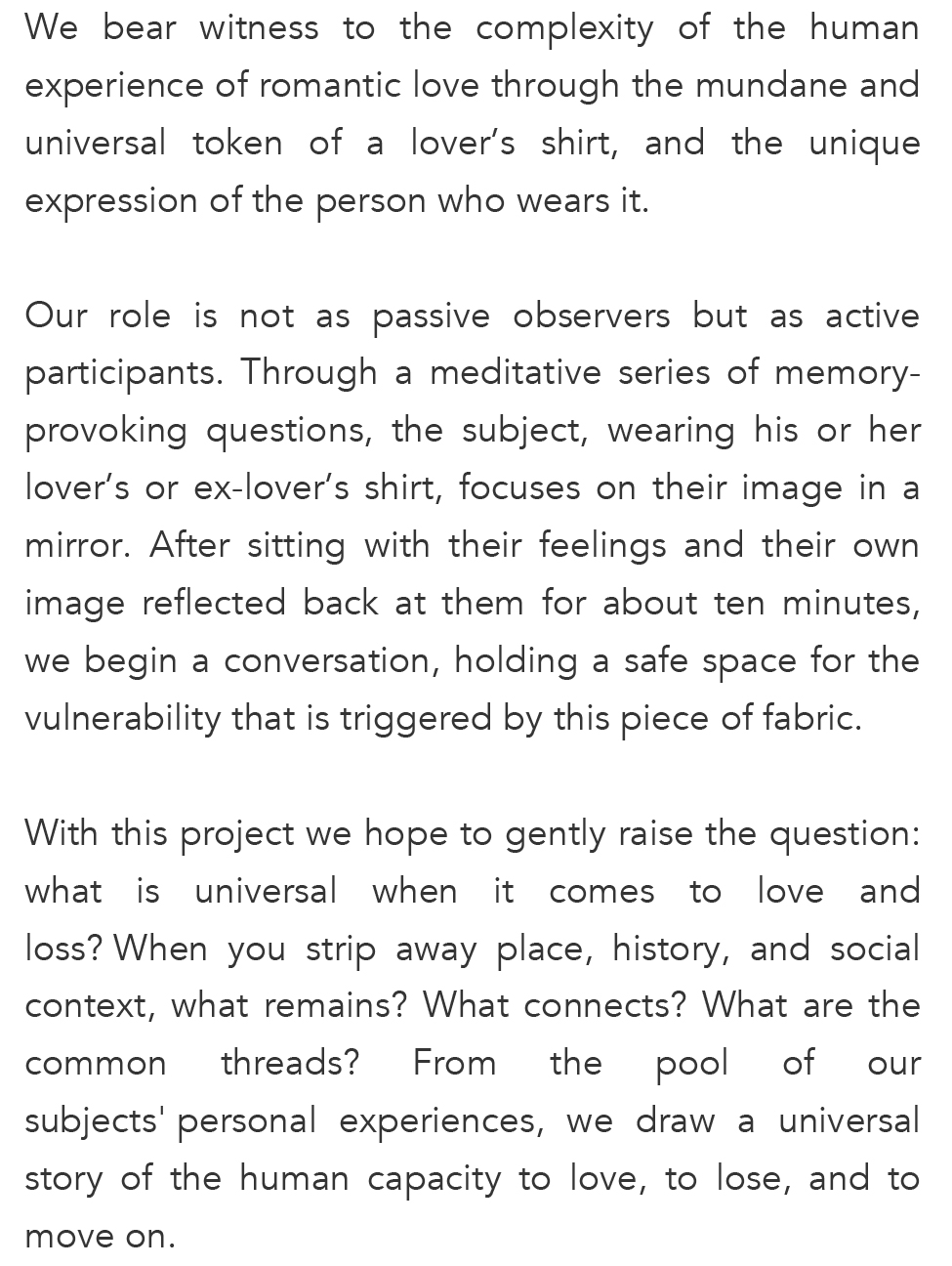 It's a journey. You start at A and in order to get D you have to travel through B and C.
I didn't want to be just another thing. I don't think he wanted me to be that, but the truth is that I was. His hair smelled like other girls.
Wearing it is a gesture to that person: I allow you to envelop me. But I don't really want you envelop me in this moment, I want to envelop myself.
We came from a culture that is restricted. I wish both of us had more experience before we got married.
I think it's nice to share something you love with someone you love, and to give something you've carried with you to someone you're carrying with you.
I don't really let myself stand still and feel anything.
I'm not broken, I'm strong. I can live without this shirt, although I'm very fond of it and have been attached to it at times. But it doesn't constrict me.
You become less of yourself and more of an entity. I guess I'm returning to myself. But sometimes it's nice to have someone there who knows what you're thinking.
The shirt is as reliable as the friendship and relationship was. He never got to see all the bad things. I hope it doesn't get lost and run over by cars.
My level of commitment to this person is terrifying. And I don't know how to not commit.
There's a part of me that wants to rip it off.
His body was in it once and my body is in it now.
Even if it's painful, we need to hold onto something.
I didn't realize how much I'd left unsaid or undone.
When you've invested so much in someone and you've tried so hard to help them and you've given so much of yourself, when do you give up on them? Is this when I let go?
I hold on tight to the fairy tale.
I was hoping for anything from him.
I have a lot of feelings.
It's shaped differently now.
It still smells like him, even though I've washed it a thousand times.
Anywhere I go is my home. Any shirt I wear is mine.
If it wasn't his I wouldn't know where it was in my closet.
He didn't give me a lot of stuff. I feel like I stole it.
This thing has to be as old as I am. I'm not ready to let go.
It's a piece of him that I still have that no one else has.
When something collapses that you believe in, you're left with this emptiness.
For someone I won't be just one. For someone I won't be something that will be so easily shed.
There's an absence every time I look at this shirt.
It's some sort of common thread between us.
It's just a shirt. All you can do is love it.
It's evidence that we were there.
I pretend like I'm the first girl he's ever given a shirt to.
It's like a different kind of photograph.
I had to ask for it back. To have him near me.
Thirty-two years, two kids, multiple deaths – how do you love someone for thirty-two years when you're not the same person you were when you started? But this shirt is still here.
As much as you build a house around it or put a ring on it, it's all still temporary and dissolving.
It makes me look a little stronger than I am.
It's just a rag I turned into a promise that he would never leave.
At first it made me feel excited, like I was part of some weird club. Now it's second nature, it feels like our shirt.
She was a witch and a record collector.
My heart feels like it has hot stones on it.
When I put this on I feel a little smaller than I am.
My fear is that I'm just one in a long line of women.
There needs to be something that evokes his presence, something to comfort me in the meantime, between the spaces.
Feeling chosen by someone is humbling.
If anyone can have it, it's her.
It feels like a flag I can't stop flying.
He's a very honest, true, earnest man.
There's an old ache underneath.
He was wearing this shirt the first time I met him.
It's the last thing I have of his. If I stopped wearing it he would be gone.
The hard parts, the good parts – all of them were important. Any of her shirts, I wear them proudly.
It feels safe and it feels soft. It feels like him. If I were to lose him I'd be lost.
You are both the quiet and the confusion of my heart. Kafka said that.
I thought of it as a souvenir. As a trophy.
The buttons keep falling off but I just keep sewing the buttons back on.
It reminds me of how I surrendered my identity.
I wear it when I'm lonely.
Even when we're not together, we still have this decision we have made to share our lives together.
I wear all his clothes. After a certain amount of time together I just started stealing them.
I am going to give it back.
I worry about anything changing. It's the small things that are almost the most important.